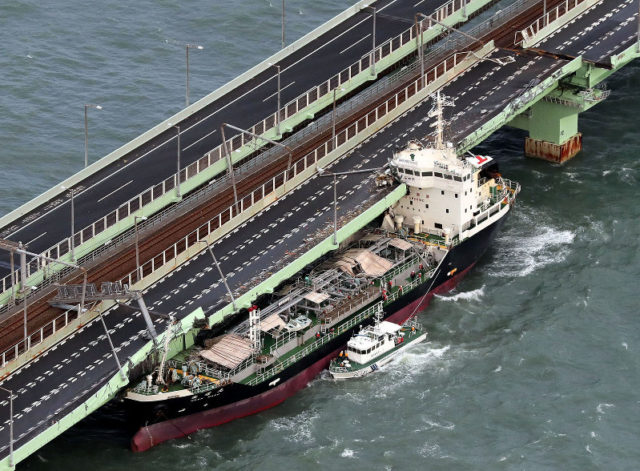 The 90 meter long, 3881 dwt tanker Houn Maru allided with a bridge over Osaka Bay near the Kansai International Airport, Osaka, Japan. The Houn Maru had been at anchor when it was swept by gale force winds from Typhoon Jebi. The tanker's anchor dragged until the Houn Maru struck the bridge with extreme force. The vessel's superstructure struck into the road deck crushing its starboard side. The tanker's hull sustained multiple breaches and water ingress which flooded the engine room.
Authorities were able to safely evacuate all 11 crew on board the Houn Maru. No reports of injuries. Reports state the Houn Maru had no cargo on board and no reports yet of any pollution released.
One section of the 3700 meter long bridge sustained severe damage shifting it several meters off its pier. Authorities have stated the amount of damage to the bridge makes it unsafe for traffic. Authorities state is will be at least several weeks before repairs can be completed.