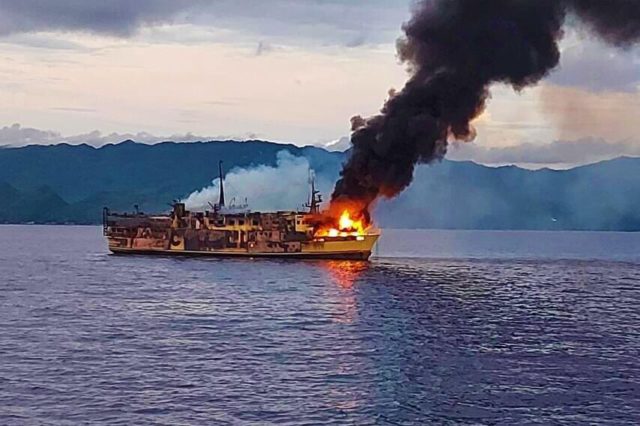 On July 23, the 66 meter long, 668 dwt ro-ro passenger ferry Filipinas Dinagat caught fire off Catmon, Philippines. The ferry had departed from Cebu City bound for Palompon in Leyte loaded with cargo only.  The Filipinas Dinagat had 48 crew and no passengers on board. The ferry traveled some 50 kilometres when the crew discovered a fire on board the vessel. The crew attempted to contain the blaze, but it soon got out of control. The fire quickly spread between the decks and the superstructure was engulfed in flames. The vessel requested assistance with the Philippine Coast Guard responding. The coast guard arrived on scene and rescued the 48 crew off the Filipinas Dinagat. Reports state some crew had sustained some minor injuries.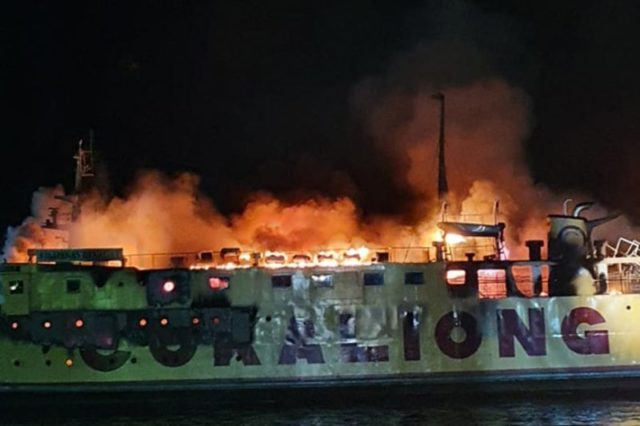 The coast guard was able to get the fire under control, but not for several hours. Reports state the fire has gutted the vessel with 95% of the vessel damaged or destroyed by the flames. Authorities have stated the fuel tanks remain intact and no fuel pollution has been released.
Reports state the coast guard has taken the Filipinas Dinagat under tow to Sogod, Cebu. An electrical short is suspected to be the cause of the fire, but authorities have stated this has not yet been confirmed. Authorities have launched an investigation into the incident.