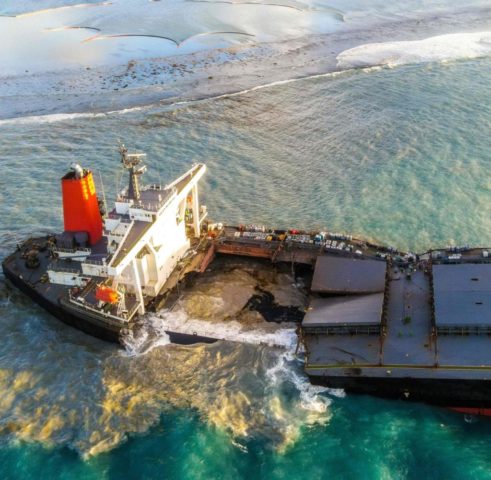 On July 25, the 300 meter long, 203130 dwt bulk carrier Wakashio ran aground three miles off Pointe D'esny, Mauritius. The Wakashio was on a return voyage to Tubarão, Brazil from Lianyungang, China. The bulk carrier was proceeding with just ballast, 3800 tons of bunker fuel oil and 20 crew on board. The vessel course would traverse the Indian Ocean to pass the capes of South Africa on to Brazil.
As the Wakashio approached the island of Mauritius, authorities attempted to alert the bulk carrier it was on the wrong course. Reports state the vessel had altered the standard course so the vessel could approach nearer to the coast. The course change was to allow the vessel to get a wifi signal while celebrating a crewmember's birthday. During the celebration, the crew had no one attending the communications. Authorities attempted to contact the vessel for an hour until they finally got through. The master of the Wakashio insisted to Mauritius coast guard that the vessel's course was safe.
Unfortunately, the Wakashio course drove the bulk carrier up on a reef along Mauritius southern coast. The bulk carrier was firmly aground at the stern while the bow was still floating free.  Fully exposed to the weather, the Wakashio began to substain damage over the next days. Several cracks appeared along the hull and the fuel tanks were ruptured. Bunker fuel began to leak out of the vessel and begun to wash ashore. Authorities had placed booms around the Wakashio, but were ineffective in containing the pollution. Authorities and local volunteers were able to remove some 150 metric tons of pollution off the beach. Experts estimate it will take several years to remove the majority of the pollution from the reef and shoreline.  Like the MS Olivia or the Rena which both ran aground and released a large amount of pollution, it may take decades before the entire environmental impact can be determined.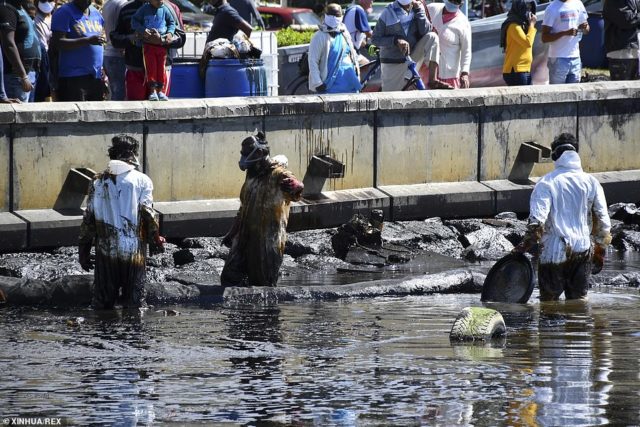 By August 6, the Wakashio had released some 1180 tons of fuel forming a 7 mile long oil slick.  The remaining fuel and oil on board the bulk carrier was transferred to small tankers by August 12. A few days later the vessel broke-in-two along the No. 8 cargo hold.  An additional 100 metric tons of lubricating oil was released. The bow section of the Wakashio is to be towed away and sunk in deep water.
Authorities have launched an investigation into incident. No reports if any criminal charges have been issued for the officers of the vessel.