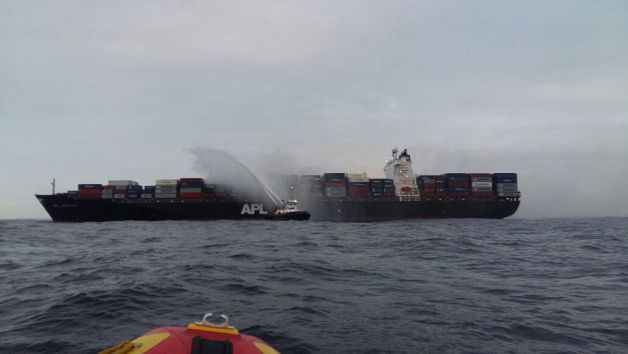 On February 13, the 295 meter long, 72807 dwt container ship APL Austria caught fire off Cape St. Francis, Eastern Cape, South Africa. The fire started in the No. 4 hold when something inside a container ignited. The fire spread to adjacent containers spewing out plumes of dense smoke. The crew attempted to put of the blaze as a dozen containers were on fire.
Unable to extinguish the fire, the crew sent out a distress call for assistance to South African authorities. The vessel was instructed to proceed to an anchorage in Algoa Bay. A NSRI lifeboat from Port Elizabeth was launched  while several tugs with a firefighting team were dispatched to the scene. While tugs attempted to contain the blaze by dousing the containers with water, all four non-essential crew members were evacuated off the container ship.  One crewman of the APL Austria had sustained a leg injury and taken to hospital for treatment.
The APL Austria was escorted by the tugs to the Port of Ngqura. There local fire tugs finally extinguished the blaze.  Reports state the APL Austria had hazardous materials on board, but those containers did not catch on fire. The exact cause of the fire has not yet been reported. Authorities have launched an investigation into the incident.