Hsiang Fuh No. 6
Hsiang Fuh No. 6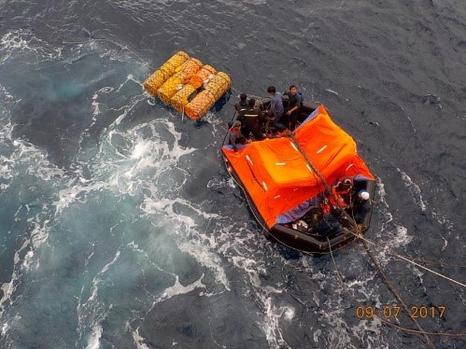 The 46 meter long, 489 gt fishing vessel Hsiang Fuh No. 6 caught fire in the Indian Ocean some 736 kilometers off Durban South Africa. The blaze could not be contained and the crew sent out a distress call before all 30 persons on board abandoned ship into the vessel's two life rafts.
The message was relayed to the South African Maritime Safety Authority who notified nearby vessels. The container ship Ever Diadem, bulk carrier Hampton Bay and bulk carrier SBI Antares responded.  Sixteen crew were rescued by the Ever Diadem while 14 were picked up by the SBI Antares. Both vessels proceded  to Durban with the survivors. One crew member had sustained serious burns.
Reports state the Hsiang Fuh No. 6 was last sighted still burning and afloat. Authorities have issued a navigation warning around the area.