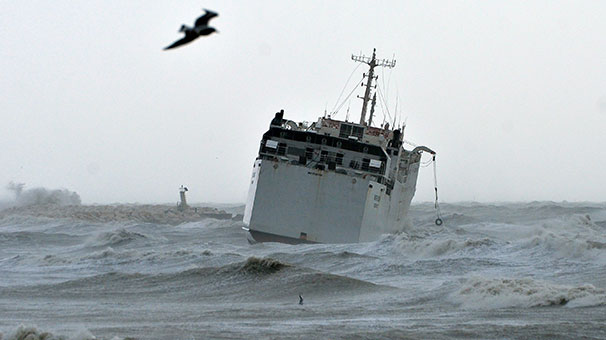 The 131 meter long cargo vessel Wardeh ran aground in the Mediterranean Sea near Mersin, Turkey.  The Wardeh had been at anchor with just two watchmen on board when it was struck by a severe storm. The vessel's anchors failed to hold and the Wardeh was driven aground just 500 meters off the shoreline.  Strong winds and large waves broke over her decks allowing water ingress.  With no power and the lower decks flooded, the Wardeh developed a heavy list to starboard.  Authorities were alerted, but were unable to take any actions until conditions improved.
On the following morning, the Coast Guard helicopter to the scene and hoisted both watchmen to safety. Both were taken to hospital, but no reports of injuries.
Reports state the Wardeh had not been in operation for almost a year and had several prior deficiencies when inspected in 2016 and 2017.  Divers are expected to inspect the hull for damages and authorities have launched an investigation into the incident.