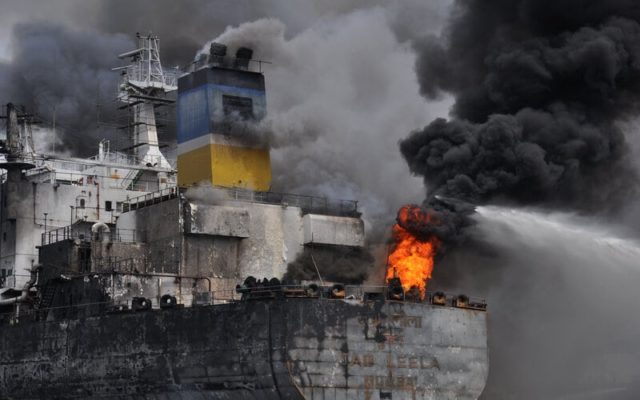 The 284 meter long, 105525 dwt tanker Jag Leela caught fire in the Malacca Strait while berthed in the PT Waruna Nusa Sentana shipyard at Belawan, Indonesia. The fire started after an explosion in the aft section of the Jag Leela. The fire quickly spread to nearby vessels and the tanker was enveloped by dense black smoke caused by crude oil burning in the cargo tanks. Reports state there were several additional explosions as the blaze consumed the aft section and superstructure.
Authorities dispatched multiple fire brigades and fire boats to the scene. Water cannons were deployed and cranes we placed to spray water onto the Jag Leela.  Fire fighters were able to finally extinguish the blaze after 7 hours.
Search and rescue teams searched the Jag Leela for survivors of the fire and explosion. Rescuers found 31 survivors on board the tanker with 22 of them requiring medical treatment for burns and other injuries. The operation also discovered seven crew who perished by the fire or explosion. Reports state the crew were found trapped below deck and were unable to escape the blaze.
Authorities have started an investigation into the incident. Reports state authorities had some difficulty reaching portions of the tanker due to the high heat inside some of the interior cabins. The Jag Leela was severely gutted by the fire and no word if the vessel will be salvaged or scrapped.