Seven Aground Off Kaohsiung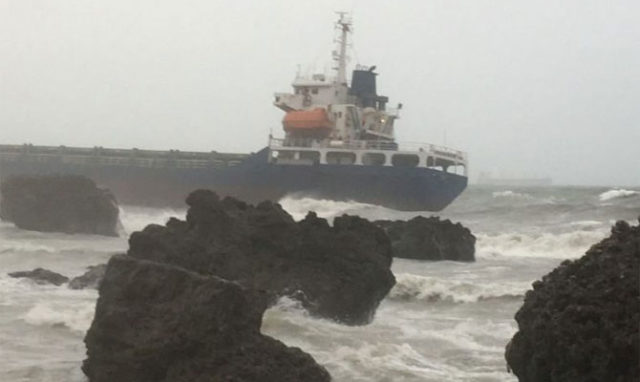 On August 23, a severe storm struck off the southwestern tip of Taiwan. Heavy winds and strong winds battered the shoreline near the port of Kaohsiung. Several vessels which had been sitting in ballast were quickly blown ashore.
The 113 meter long, 6835 dwt container ship Jin Hua was blown aground north of Kaohsiung near Tainan City.
The 89 meter long, 2000 dwt container ship Unlimited 2 ran aground between Kaohsiung and Tainan City.
The 107 meter long, 6555 dwt tanker Dragonaria went ashore along the southern breakwater of Kaohsiung.
The 83 meter long, 4063 dwt cargo vessel Shun Hong ashore off Kaohsiung.
The 98 meter long, 5000 dwt cargo vessel Chang Long 68 was blown ashore.
The 98 meter long cargo vessel An Li 669 went aground off Kaohsiung.
The 126 meter long, 8085 dwt cargo vessel Shun Yue 19 reported ashore near Kaohsiung.
Reports state some 66 crew were rescued safely off five of the stranded vessels. No reports of injuries. Reports state a fishing vessel also went ashore and broke up, but all the crew were safely rescued by authorities. Authorities and salvage companies responded after the storm and began removal of fuel off the stranded vessels. Some 85 tons of fuel was estimated to be on board the multiple vessels at the time of the incident.