Höegh Xiamen
Höegh Xiamen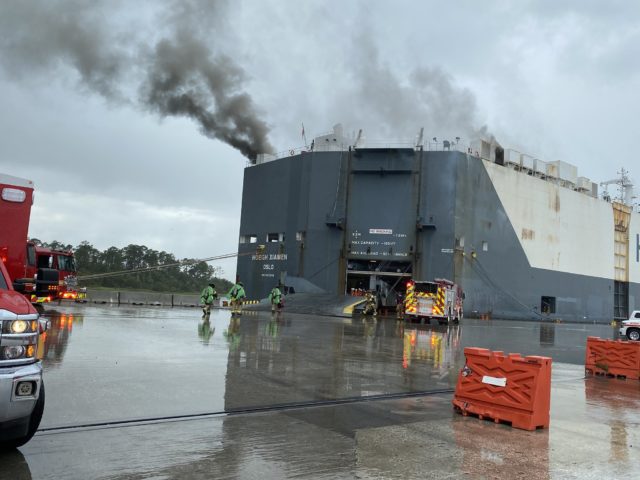 On June 4, the 183 meter long, 12250 dwt vehicle carrier Höegh Xiamen caught fire while berthed at Blount Island, Jaksonville, Florida. The fire started on her seventh deck shortly after the crew had completed loading operations. The crew was unable to contain the blaze and requested assistance. The Jacksonville Fire Department dispatched multiple crews to the scene. Firefighters found the blaze had spread to several decks. While trying to contain the blaze, there was an explosion below deck which injured several fire fighters. All 21 crew on board the Höegh Xiamen were safely evacuated from the vessel.
Fire tugs arrived on scene and began spraying water on the vessel to keep it cool.  Dewatering pumps were also deployed to control the amount of water inside the hull.  Firefighters continued their efforts for several days to contain the blaze. Firefighters continued to spray the vessel's with 25,000 gallons of water per minute and were able to contain the blaze, but did not extinguish it. Reports on June 11, state the fire remained contained, but continued to burn on the car decks.
Authorities are monitoring the Höegh Xiamen for structural integrity and any potential pollution release. Authorities have launched an investigation into the incident.