Collision off Kalundborg
Collision off Kalundborg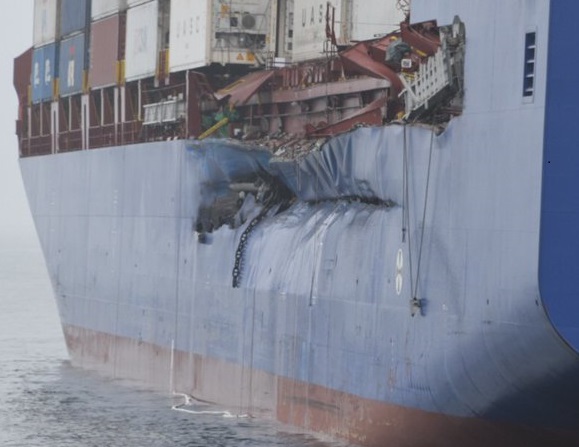 On March 27, the 178 meter long, 24700 dwt container ship Delphis Gdansk collided with the 190 meter long, 37506 dwt cargo vessel BBC Neptune off Kalundborg, Denmark. The Delphis Gdansk was en route to Russia from the Netherlands when it approached the bulk carrier Western Boheme and cargo vessel BBC Neptune.  The Delphis Gdansk altered its course so that the container ship would pass to the port side of the Western Boheme while the BBC Neptune also changed course to port. While the Delphis Gdansk passed safely by the Western Boheme, the container ship was struck amidship by the BBC Neptune's starboard hull near the bow.
Both vessels sustained significant damage with hull breaches above the waterline. The Delphis Gdansk had several containers lost or destroyed during the collision. After the collision, a fire started on the BBC Neptune. A response boat was dispatched with fire fighters and were able to assist in extinguishing the blaze. No reports of injuries on either vessel.
Authorities dispatched additional response vessels and aircraft to the scene while salvors began a search of containers in the shipping channel. Reports stated seven containers had been lost in the collision.  By the next day, salvors had recovered three containers floating in the channel.
Reports state both the Delphis Gdansk and BBC Neptune will be taken to a nearby shipyard for repairs. Authorities have launched an investigation into the incident.